Elaborate Show Fountain Takes Shape at Upscale Retail Center in Utah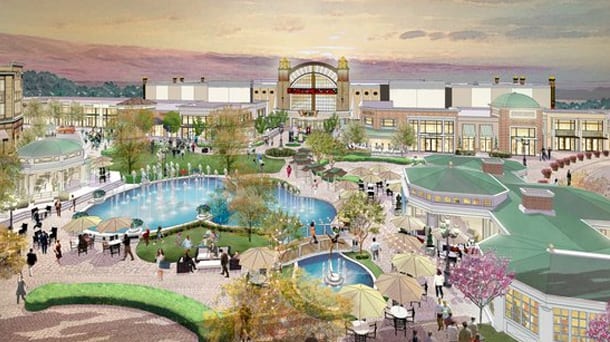 A sensational, one-of-a-kind show fountain is taking shape at Station Park, an upscale retail center near Salt Lake City, Utah.
Holiday shoppers are already enjoying the opening of several stores and a theater at the center, but the show fountain will take center stage when it opens in early 2012.
Outside the Lines is working hand-in-hand with world-famous landscape architect Lifescapes International and concept architect DDG to create a gathering place that will become the heart and soul of the project. We're proud to be part of the project team.
The show fountain's vessel, vault, underground piping and rockwork are nearing completion. The waterfall boulders and slab rock, reminiscent of The Shoppes at Veranda Falls in Florida, are also taking shape. Finished plumbing starts this week, when craftsmen from Outside the Lines begin installing automated nozzles that will bring the show fountain to life.
Show Fountain Construction
Behind the scenes, the artisans at OTL are carefully choreographing the show fountain's lights, color and motion to a dazzling variety of musical selections, ranging from contemporary to classic.
When the show fountain springs to life, visitors will enjoy classic standards by Frank Sinatra and Michael Bublé, along with upbeat pieces by The Beatles and Mariah Carey. The show fountain will perform every hour on the hour and feature additional holiday pieces during the Christmas season.
OTL is designing and constructing an animated fountain that includes 52 chasing nozzles, six, 3-axis robotic nozzles, and at the center, a display nozzle. Add colored lights, music and choreography, and you've got a highly entertaining show you'll never forget.
Each chasing nozzle will be lit with color, and each robotic nozzle is topped with a fan jet that will twist, turn and rotate in circles to create a variety of shapes, color and movements. To top it off, the transformer nozzle displays another show of color and light as it shoots a vertical plume of water 40-50 feet in the air.
Just when you think the center transformer nozzle has completed its glitzy act, it changes from a dynamic horizontal display to a graceful water bell blossom.
The show fountain will make its grand debut at Station Park's grand opening, which is scheduled for April 2012.

If you would like more information about how to incorporate show fountains or other water features into your project, please contact Hugh F. Hughes at Outside the Lines at (714) 637-4747, extension 151, or email OTL at info@otl-inc.com.
Subscribe to Our Newsletter